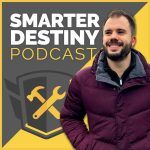 Yannis Varellas is the Founder and CEO at Oyra, the first ever organic and nutritious breakfast biscuits. Inspired by the practical wisdom, virtues and holistic life approach of Ancient Greeks, Yannis came up with the unique recipe of Olyra Breakfast Biscuits, using absolutely nothing artificial. Olyra is the fastest growing natural breakfast biscuit brand in the US, already present in 5,000 stores. Today we will be talking about how to start a business from scratch, the benefits of retail over ecommerce and how to get into supermarket shelves. All this and much more, up next.
(00:09) Intro
(03:17) The start as an entrepreneur
(06:41) The family business
(07:55) Yannis' background and getting into the first business
(12:23) What we can learn from the ancient greeks
(19:09) Getting into the supermarket shelves
(23:06) Why choose retail over ecommerce
(29:40) Where to find out more
(30:11) Rapid fire question round
(30:26) If you ever had to start again, how would you make your money?
(32:13) What is the most common or biggest mistake that leaders make?
(32:56) Who is a great leader (alive or dead) and why?
(35:14) What is one of your proudest moments?
(35:49) What is one interesting fact about you that not many people would know?
(36:26) What daily routines do you have (morning or evening) that have helped make you successful?
(39:10) What book (or books) changed your mindset or life?
(39:48) What advice would you give your younger self?
(41:02) What unusual or underrated food or drink should more people try out?
(42:40) What makes you happiest?
(45:23) Any asks or requests for the audience?