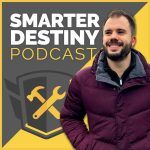 Will Hughes is an accomplished digital strategist and innovator with over 15 years of digital marketing and ecommerce experience. He has thrived creating and executing multi-million dollar online marketing campaigns that drive customer acquisition, generate online sales growth, and exceed ROI objectives. Will has been an entrepreneur and VP of growth across big companies, and throughout this time he got really good at helping those companies grow and scale fast through slightly unconventional methods. Today, Will is going to teach us a little bit about how to think differently. All this and much more, up next.

Bullet Points
(00:22) Intro
(03:16) The start as an entrepreneur
(06:28) Creative thinking as a competitive advantage
(08:12) The Hollywood blacklist
(13:01) Thought patterns: The antithesis of creative thinking
(15:29) The Google case
(17:42) Blank Street Coffee
(19:40) Taking the inverse approach: Liquid Mind Masterclass
(28:04) Copy culture in the digital space
(35:40) Rapid fire question round
(35:50) Who is a great leader (alive or dead) and why?
(37:40) How do you evaluate a good business deal?
(40:00) How do you identify a good business partner?
(41:00) What is one interesting fact about you that not many people would know?
(42:28) What daily routines do you have (morning or evening) that have helped make you successful?
(43:40) What book (or books) changed your mindset or life?
(45:30) What advice would you give your younger self?
(46:05) What makes you happiest?