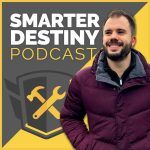 Ben Reinberg is the founder and CEO of Alliance Consolidated Group of Companies, a national commercial real estate investment fund that focuses on medical properties. With over 200 years of experience in the leader team it's no wonder that they've been going for more than 20 years, crushing billions of dollars of transactions. But Ben doesn't just do it, he also speaks it, teaches it and practices it. He is a leader in the space in many ways and has been awarded the Net Influencer of the Year. Ben also hosts the podcast I Own It, which is growing astronomically and it's booked out until February. Today we are gonna be talking about the problems that are unique to entrepreneurs, unique to successful entrepreneurs that you can't speak about to your friends, your family and the people that are outside of the space. All this and much more, up next.
Bullet points
(00:15) Intro
(02:45) The start as an entrepreneur
(05:19) Getting into real estate
(06:58) The importance of being in the present
(08:30) Becoming the best version of yourself
(15:21) Dealing with entrepreneur impostor syndrome
(19:41) Being an entrepreneur is a marathon business
(25:28) Alliance Consolidated and investing passively
(27:01) Ben Reinber and adding value
(33:55) Where to find out more
(34:25) Rapid fire question round
(34:38) If you ever had to start again, how would you make your money?
(34:46) What is the most common or biggest mistake that leaders make?
(35:02) How do you hire top talent?
(35:35) What is one of your proudest moments?
(36:00) What book (or books) changed your mindset or life?
(36:34) What advice would you give your younger self?
(36:54) What unusual or underrated food or drink should more people try out?
(37:55) What makes you happiest?
(40:22) Any asks or requests for the audience?