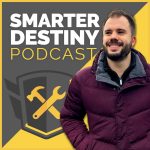 Tyler Merritt is an air mission commander turned serial entrepreneur, co-founder at Nine Line Apparel, an 8-figure apparel company that has been around since 2012 and it's going to make 20 millions dollars in revenue this year. In today's episode we will be talking about transitioning out of the military and becoming an entrepreneur. We will also discuss how Nine Line achieved massive growth manufacturing in the USA, and the marketing strategy they are using for 2021. All this and much more, up next.
This podcast is brought to you by &BAM – who right now  are offering free email account audits to Smarter Destiny listeners – they'll go through your email account in detail and make personalised recommendations to boost your email sales! Head to smarterdestiny.com/bam and book a call – I highly recommend it.
Bullet points
00:32 – Intro
02:38 – The start as an entrepreneur
05:40 – Transitioning out of the military
07:35 – First venture and doing good: Nine Line
12:09 – Making sacrifices
14:54 – Achieving massive growth
24:01 – The marketing strategy for 2021
28:29 – Manufacturing in the USA
33:13 – Opening retail stores and other current projects
38:00 – Marketing campaigns and ROI
39:31 – Old methods that are coming back in 2021: Mailouts
43:05 – Responsible manufacturing
49:18 – Rapid fire question round
49:32 – If you ever had to start again, how would you make your money?
50:52 – What is the most common or biggest mistake that you see leaders making?
52:37 – Who is the best leader ever (alive or dead) and why?
54:25 – How do you hire top talent?
57:24 – What is one of your proudest moments?
01:00:19 – What is one interesting fact about you that not many people would know?
01:01:47 – What daily routines do you have (morning or evening) that have helped make you successful?
01:09:24- What book (or books) changed your mindset or life?
01:13:54 – What advice would you give your younger self?
01:16:15 – What unusual or underrated food or drink should more people try out?
01:18:11 – What makes you happiest?
01:20:22 – Any asks or requests for the audience?