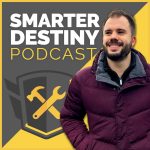 Rok Hrastnik is an international ecommerce leader and a true legend when it comes to ecommerce growth. He specializes in agile ecommerce leadership, international ecommerce organizational design, ecommerce growth strategy and demand generation. Rok has built two ecommerce businesses and scaled them past the 40 M euros a year mark. How, you may ask? He creates chaos and then turns that chaos into organized growth. Find out how Rok helps export ecommerce companies grow, and all the benefits of creative chaos, up next.
Bullet points
(00:33) Intro
(02:30) The start as an entrepreneur
(10:02) Helping export ecommerce companies get to the next level of growth
(15:17) One principle in ecommerce that remains true today
(21:15) Selling in other territories from a small country like Slovenia
(28:18) Figuring out distribution
(29:10) Simplifying the business
(30:22) Driving people to English landing pages vs localizing as much as possible
(33:30) Where to start
(35:09) Having a local domain
(36:13) Figuring out the payment methods
(38:56) Figuring out distribution
(40:24) How to figure out everything out faster: Look at the local players
(43:50) Turning chaos into organized growth
(47:08) Where to find out more
(48:22) Some examples of thinking-out-of-the-box marketing
(52:05) Rapid fire question round
(52:22) If you ever had to start again, how would you make your money?
(53:12) What is the most common or biggest mistake that you see leaders making?
(56:04) Who is the best leader ever (alive or dead) and why?
(57:50) What is one of your proudest moments?
(59:23) What is one interesting fact about you that not many people would know?
(01:00:02) What daily routines do you have (morning or evening) that have helped make you successful?
(01:00:51) What book (or books) changed your mindset or life?
(01:01:50) What is the most exciting question you spend your time thinking about?
(01:02:49) What is one controversial opinión that you have?
(01:03:47) What advice would you give your younger self?
(01:05:14) What unusual or underrated food or drink should more people try out?
(01:11:21) What makes you happiest?