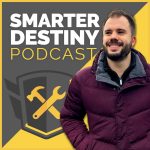 David Stellato is the Chief Growth Officer at DFO Global, a 9-figure revenue global performance marketing agency. With over 400 employees and spanning 10 offices on 5 continents, DFO Global is a massive player in the online performance marketing world. They drive sales through their network of over 3000 publishers as well as their own massive internal team of media buyers, creatives, fulfillment and legal. They have customers in over 180 countries and have driven the sales of over a 100 patented products and thousands of unpatented ones. Today, David will share with us how to get to know your customers, the importance of culturalization when selling abroad and how to tweak your marketing strategy in 2021. All this and much more, up next.
Bullet points
(00:31) Intro
(02:52) The start as an entrepreneur
(05:51) Becoming Chief Growth Officer at DFO
(07:43) What does CPA mean and how DFO is different
(13:31) &BAM
(15:17) Some ways to tweak your marketing strategy in 2021: Facebook, YouTube, Pinterest, Snapchat and TikTok
(19:24) Translation and culturalization
(23:39) What opportunities are often missed out?
(26:41) Building products for the funnel
(28:45) Three go-to tweaks
(29:31) First: Testing price points
(30:12) Second: Checking out formats
(30:43) Third: Offering different payment methods
(31:27) How to get to know your customers better
(33:10) Where to find out more
(33:31) Rapid fire question round
(33:52) If you ever had to start again, how would you make your money?
(34:12) What is the most common or biggest mistake that leaders make?
(34:35) Who is a great leader (alive or dead) and why?
(35:14) How do you hire top talent?
(36:33) How do you evaluate a good business deal?
(37:11) How do you identify a good business partner?
(38:01) What is one of your proudest moments?
(38:10) What is one interesting fact about you that not many people would know?
(39:21) What daily routines do you have (morning or evening) that have helped make you successful?
(41:26) What book (or books) changed your mindset or life?
(42:21) What is the most exciting question you spend your time thinking about?
(44:46) What advice would you give your younger self?
(44:00) What was your biggest challenge starting in business and how did you overcome it?
(44:29) What unusual or underrated food or drink should more people try out?
(47:08) What makes you happiest?
(47:51) Any asks or requests for the audience?