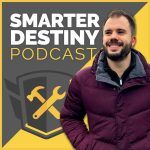 Linzi Boyd is the founder of BoB Earth and Unite on Purpose, author of Brand Famous and global speaker. With over 25-years experience working with brands, Linzi teaches entrepreneurs, business owners and brands how to change their way of thinking from the old school profit and revenue to thinking in terms of impact and making the world a better place. Linzi's superpower is spotting trends and figuring out where the world is moving and how we can get ahead of the curb and leverage that vision to make our business more impactful.
Bullet points
(00:53) Intro
(02:49) The start as an entrepreneur
(06:44) Walking away from the industry and starting a fourth business
(00:24) What is BoB Earth?
(14:21) Why is it important to you to make an impact?
(21:24) How to start to pivot
(30:07) Building a foundation and a commercial business model
(31:33) Unite on Purpose
(35:26) Where to find out more and The Race to Impact The World
(38:08) Rapid fire question round
(38:28) If you ever had to start again, how would you make your impact?
(39:04) What is the most common or biggest mistake that leaders make?
(39:36) Who is a great leader (alive or dead) and why?
(40:18) What is one of your proudest moments?
(41:24) What is one interesting fact about you that not many people would know?
(43:13) What daily routines do you have (morning or evening) that have helped make you successful?
(44:21) What book (or books) changed your mindset or life?
(46:48) What is the most exciting question you spend your time thinking about?
(50:14) What unusual or underrated food or drink should more people try out?
(51:29) What makes you happiest?
(52:38) Any asks or requests for the audience?