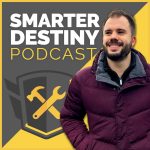 Rebecca Louise is an international fitness entrepreneur, founder and CEO of Rebecca Louise Fitness, best-selling author of It Takes Grit, and founder of the BTES Fitness App. A continual content creator and empowerment-focused influencer, Rebecca strives to make fitness and success accessible to the masses through her numerous platforms and courses. Rebecca's mission to help others overcome excuses and achieve lasting change has garnered her 2 M followers on Instagram and half a billion views on YouTube.
Bullet points
(00:41) Intro
(02:52) The start as an entrepreneur
(06:29) Being on a TV show and working with a mentor
(10:19) Moving to London to work at a bank
(12:21) Moving to America to become a pilot
(16:11) Auditioning in America and getting the role
(18:37) Creating a different channel
(20:03) Building a following in 2021
(22:21) Building your personal brand
(23:51) What platform should you use?
(25:31) What does your team look like now?
(28:37) Developing the BTES app
(32:23) Where to find out more
(33:58) Rapid fire question round
(34:16) If you ever had to start again, how would you make your money?
(34:49) What is the most common or biggest mistake that leaders make?
(35:36) Who is a great leader (alive or dead) and why?
(36:24) How do you hire top talent?
(37:13) What is one of your proudest moments?
(38:04) What is one interesting fact about you that not many people would know?
(38:51) What daily routines do you have (morning or evening) that have helped make you successful?
(40:16) What book (or books) changed your mindset or life?
(41:03) What is the most exciting question you spend your time thinking about?
(46:38) What advice would you give your younger self?
(48:15) What unusual or underrated food or drink should more people try out?
(49:58) What makes you happiest?