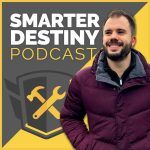 Mick Emandi is the executive director of ClarigenZ. He has revolutionized the personal injury space by developing a new business model that was a win-win for everyone, a high 10-figure revenue business that stills exists today. Since then he has had many businesses in the healthcare space, including the largest medical marijuana practice in the estate of Florida, integrating cannabis treatment with insurance reimbursement. Now he is all-in on a new project called ClarigenZ, an alternative to Adderall and was discovered by accident.
Bullet points
(00:13) Intro
(01:50) The start as an entrepreneur
(04:00) Scaling a project without getting overwhelmed
(05:56) Convincing new business partners
(07:48) Moving to the next thing
(09.29) Getting into the medical marijuana business
(10:36) Integrating marijuana treatment with insurance reimbursement
(11:54) The planning stage
(13:35) The ideation stage
(14:47) The benefits of lucid dreaming
(17:57) How to start lucid dreaming
(19:21) Creating ClarigenZ
(27:52) Where to find out more
(28:49) Rapid fire question round
(29:05) If you ever had to start again, how would you make your money?
(30:39) What is the most common or biggest mistake that leaders make?
(31:40) Learning how to delegate
(32:30) How do you hire top talent?
(33:07) How do you identify a good business partner?
(33:46) How do you evaluate a good business deal?
(34:42) What is one of your proudest moments?
(37:11) What is one interesting fact about you that not many people would know?
(38:55) What daily routines do you have (morning or evening) that have helped make you successful?
(42:01) What book (or books) changed your mindset or life?
(43:12) What is the most exciting question you spend your time thinking about?
(46:17) What advice would you give your younger self?
(48:14) What unusual or underrated food or drink should more people try out?
(50:03) What makes you happiest?