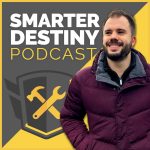 Norm Lanier is the CEO of Lone Star Art, a successful sign manufacturer and seller based in Texas. After getting his degree in photography and starting his creative career, he worked his way up to become a Senior Graphic Designer for companies like Exxon, Compaq and HP. On his 50th birthday, he walked away from corporate life to fulfill his lifelong dream of working and creating art for himself. Today he has a team that helps him create products in-house with the singular vision of bringing beautiful art into people's homes. Lone Star Art is now a 6-figure company that recognizes its responsibility to do good in the world as they grow, and every month they donate to different organizations.
Bullet points
(00:10) Intro
(02:40) The start as an entrepreneur
(06:02) Transitioning to full time, selling on Amazon and starting to sell artwork
(08:27) The feedback loop with the customer
(13:05) Getting more space, manufacturing and building a Shopify store
(16:09) Buying a house instead of a commercial space
(19:00) Expanding the product line, diversifying and selling wholesale
(20:27) How to find wholesale opportunities
(24:17) The manufacturing side
(28:04) The charitable side
(30:51) Rapid fire question round
(31:07) If you ever had to start again, how would you make your money?
(31:53) What is the most common or biggest mistake that leaders make?
(32:42) Who is a great leader (alive or dead) and why?
(33:37) How do you evaluate a good business deal?
(34:32) What is one of your proudest moments?
(36:00) What is one interesting fact about you that not many people would know?
(36:36) What daily routines do you have (morning or evening) that have helped make you successful?
(37:33) What book (or books) changed your mindset or life?
(39:18) What is the most exciting question you spend your time thinking about?
(40:32) What advice would you give your younger self?
(41:21) What unusual or underrated food or drink should more people try out?
(42:00) What makes you happiest?
(43:29) Any asks or requests for the audience?
(44:12) Where to find out more