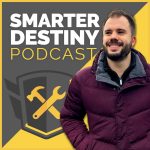 Mike Sweigart is the ultimate brand messaging consultant, a best-selling author and speaker. He helps businesses connect with their target market and generate massive revenue through social media and email campaigns. Mike is also a LinkedIn expert, and shares with us some of his best tips on how to create an engaging profile.
00:30 – Intro
00:16 – The entrepreneurial childhood
09:22 – The first "real" jobs
10:29 – Working with NSYNC
16:25 – Having a side hustle
19:50 – Learning B2B
21:20 – The most important lesson
23:44 – How to build trust
25:57 – The sale process
28:18 – Coaching
31:40 – The most common challenges 20 to 30 million dollar companies have
33:52 – Understanding Linkedin
53:55 – Rapid fire question round
54:47 – What superhero would you be and why?
55:43 – What is one thing that people incorrectly assume about you?
57:46 – What is the most pointless subject taught at schools and what would you replace it with?
59:33 – What is one amazing act of kindness you either witnessed or done yourself?
01:02:05 – What unusual or underrated food or drink should more people try out?
01:04:01 – What is one mistake in your life and what did you learn from it?
01:07:00 – What does the first 30 minutes of your day look like and when does it start?
01:09:06 – What do you do or where do you go to get inspired?
01:10:49 – Who do you idolize above everyone else and why?
01:12:21 – What book do you read or gift the most?
01:16:43 – What silly thing should people do more of?
01:17:20 – If you could change one world problem with one wish, what would it be?
01:20:27 – Would you rather always be 10 minutes late or always be 20 minutes early?
01:20:56 – Would you rather move to a new city or town every week or never be able to leave the city or town you were born in?
01:22:17 – What makes you happiest?