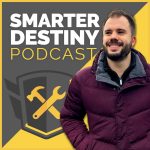 SHOW NOTES for Alex Cunliffe – Inkthreadable
1:50 – Tell the audience what Inkthreadable is – AC explains briefly what his brand is.
3:50 – What do you do and how long have you been doing it? – AC: Amy is my partner in life and business. The beginnings when they were 14 years old.
6:06 – Tell us about your name inkthreadable.
7:30 – Units, staff, size, etc. – AC: Specific data
9:40 – Turnover and growth –
10:50 – What challenges did you face? AC: Creating a company with no experience at 17 years old. Family of entrepreneurs helped with good advice.
13:08 – Inkthreadable is a software company that offers a physical product as a service.
18:26 – Printing leggins for Martyn Cook, the challenge.
22:15 – The risks you've taken. AC – Change the equipment from desktop to large scale industrial. How do the new industrial machines function.
28:54 – Family. The birth of his child and how this affected the business.
33:40 – How can one manage being a good dad and a serious entrepreneur. "We do things as a family"
38:10 – "One of the things that are most important for me is happiness"
39:17 – How do you deal with an issue or problem? The fake stealing of Frozen soundtrack talk.
46:00 – The story about his customer, a lifestyle entrepreneur, who build a six figure business in 12 months while traveling the world.
49:50 – Round of quick questions. How do you get into a state of flow? Reflection and mindfulness.
53:10 – If you ran a school, what non traditional lesson would you teach? Basic Business. Marketing, sales, financing, taxes, operation.
54:40 – What silly thing should people do more often? Sing and dance
55:40 – Best advice? Don't turn down opportunity
58:15 – Benefits for the listeners.