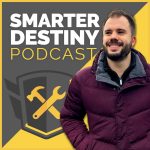 Shownotes:
00:30 – Presentation Dan Nikas
00:42 – About the career as a homicide detective. "Traditionally police, when they get into these sort of long work trips, they go to the pub to spend the afternoon. But I turned to fitness instead"
06:15 – The first course about how to grow your facebook page.
06:45 – First time DN hears about print on demand shirts.
08:08 – Facebook advertising and how, all of the sudden, this system appeared where people tell you everything about themselves.
09:00 – The breakdown as a policeman. "The doctors said I couldn't do that anymore"
14:30 – "I had two choices, do I fight for it or do I submit".
20:30 – "If you build your whole business on someone else's foundation, and they take that away, you have nothing".
22:11 – Print on Demand vs. Dropshipping.
25:13 – "Well, if I'm trying to build a brand, I don't want to be all day finding new customers and not make them happy, so I went back to POD".
26:15 – Leggins and how the business took off.
27:35 – Starting at 0 and going to US$ 4.5M in the first twelve months.
29:40 – I very quickly learned that I need help. Yes, it costs money to have help, but you can't go somewhere without.
30:41 – The biggest demands from customers where in the end used as advertisement.
35:43 – You have to have a Post-purchase funnel
42:12 – Stop trying to chase the guru screenshots. That's not the reality of the business.
44:30 – When sales are going so well you forget to know where your money is going to. You have to be efficient and reduce costs.
– QUICK FIRE QUESTIONS

47:00 – Which are your top three metrics?
51:30 – What advice for the entrepreneur dad's?
56:45 – What are your first 15 to 30 minutes of the day like?
58:20 – What unusual things you drink or eat?
59:00 – How do you get yourself into a state of flow?
1:00:00 – What habit or opinion do you have that people tend to disagree with?
1:03:19 – What nontraditional lesson would you teach if you ran a school?
1:05:05 – What book had the biggest impact on your life?
1:08:30 – Where do you go to get inspired?
1:12:05 – if I gave you US$ 5k how would you double it in 24hs?
1:13:34 – Best advice ever given to you?
1:15:44 – One horse sized duck or one hundred duck sized horses?

1:19:00 – What would you ask to the audience?