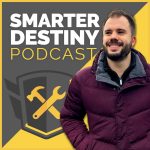 Ellie Shefi is an attorney, entrepreneur, award-winning author, keynote speaker, implementation strategist and coach. Ellie is a problem-solver and a master implementer who facilitates change and provides her clients with practical tools and strategies that generate results. Ellie helps entrepreneurs bring their business to life; authors to get their book out of their head and into the world; speakers to amplify their message; and women to find their voice and become the architects of their life and legacy.
This podcast is brought to you by &BAM – who right now  are offering free email account audits to Smarter Destiny listeners – they'll go through your email account in detail and make personalised recommendations to boost your email sales! Head to smarterdestiny.com/bam and book a call – I highly recommend it.
Bullet points
00:50 – Intro
02:52 – The start as an entrepreneur
05:28 – Coming from a different place and using unconventional methods
08:26 – Bringing in legal knowledge and analytical training
09:51 – Solving clients' problems: Analyzing a tough case
10:00 – &BAM
15:22 – Data analysis: Getting into the why
17:37 – Working with 6-figures clients
18:10 – Working with service-based businesses
18:30 – Solving clients' problems: Adapting to a crowded marketplace
21:12 – How to increase the value of what you are offering
25:44 – Where to find out more
26:30 – Rapid fire question round
26:46 – If you ever had to start again, how would you make your money?
27:00 – What is the most common or biggest mistake that you see leaders making?
27:19 – Who is the best leader ever (alive or dead) and why?
28:57 – How do you hire top talent?
29:57 – How do you evaluate a good business deal?
30:32 – How do you identify a good business partner?
33:19 – What is one of your proudest moments?
37:23 – What is one interesting fact about you that not many people would know?
38:40 – What daily routines do you have (morning or evening) that have helped make you successful?
39:59 – How rewire your brain to gain back control
46:55 – What book (or books) changed your mindset or life?
47:30 – What is the most exciting question you spend your time thinking about?
47:46 – What advice would you give your younger self?
48:33 – What was your biggest challenge starting in business and how did you overcome it?
52:40 – What unusual or underrated food or drink should more people try out?
53:20 – What makes you happiest?
54:28 – Any asks or requests for the audience?