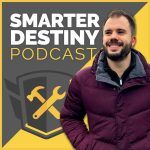 Eli Crane is a former Navy SEAL and the founder and CEO of Bottle Breacher, one of the fastest growing veteran owned and operated businesses in Arizona. In 2014, Eli Crane and his wife appeared on Shark Tank. Their product: a recycled, authentic decommissioned .50 caliber bottle opener, manufactured in their garage. Having enticed Sharks' Mark Cuban and Kevin O'Leary to invest, today Bottle Breacher features an ever expanding product line serving customers both domestically and internationally.
This podcast is brought to you by &BAM – who right now are offering free email account audits to Smarter Destiny listeners – they'll go through your email account in detail and make personalised recommendations to boost your email sales! Head to smarterdestiny.com/bam and book a call – I highly recommend it.
Bullet points
00:00 – &BAM
02:15 – Intro
03:49 – The start as an entrepreneur
06:40 – Starting a small business on Etsy: Bottle Breacher
09:50 – Branding your product
12:05 – The .50 Caliber ammunition
15:13 – Engraving the bullets
17:26 – Scaling
23:55 – Getting on Shark Tank
28:33 – The Shark Tank episode
31:11 – Sourcing the bullets
34:34 – Where to find out more
35:16 – Rapid fire question round
34:32 – If you ever had to start again, how would you make your money?
36:25 – What is the most common or biggest mistake that you see leaders making?
37:23- Who is the best leader ever (alive or dead) and why?
38:21 – How do you hire top talent?
39:18 – How do you evaluate a good business deal?
39:40 – How do you identify a good business partner?
40:57 – What is one of your proudest moments?
41:04 – SEAL training
48:00 – What is one interesting fact about you that not many people would know?
49:41 – What daily routines do you have (morning or evening) that have helped make you successful?
51:43 – What book (or books) changed your mindset or life?
52:46 – What is the most exciting question you spend your time thinking about?
53:08 – What advice would you give your younger self?
54:57 – What was your biggest challenge starting in business and how did you overcome it?
56:54 – What unusual or underrated food or drink should more people try out?
58:02 – What makes you happiest?
59:10 – Any asks or requests for the audience?