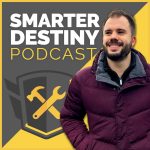 Sean Matson is a former Navy SEAL turned entrepreneur. After spending 13 years as a Navy SEAL Officer with multiple deployments in strategic locations, his current mission is to bring disruptive technologies to the market and empower others in our journey. Sean is the co-founder and CEO of both MATBOCK —an 8-figure revenue company in the military space— and Cardo Max —a liquid supplements company that uses clean ingredients.
Bullet points
00:58 – Intro
02:51 – The start as an entrepreneur: from the military to founding MATBOCK
08:48 – The buyers
10:44 – Selling online
13:19 – Enlightened entrepreneurs: launching innovative products
17:09 – Having a system for innovating
22:59 – Launching a second company: Cardo Max
27:18 – Where to find out more
28:04 – Rapid fire question round
28:24 – If you ever had to start again, how would you make your money?
28:47 – What is the most common or biggest mistake that you see leaders making?
30:31 – Who is the best leader ever (alive or dead) and why?
31:09 – How do you hire top talent?
32:00 – How do you evaluate a good business deal?
33:10 – How do you identify a good business partner?
34:37 – What is one of your proudest moments?
36:02 – What is one interesting fact about you that not many people would know?
37:34 – What daily routines do you have (morning or evening) that have helped make you successful?
39:08 – What book (or books) changed your mindset or life?
40:23 – What is the most exciting question you spend your time thinking about?
41:24 – What advice would you give your younger self?
41:45 – What was your biggest challenge starting in business and how did you overcome it?
43:25 – What unusual or underrated food or drink should more people try out?
44:55 – What makes you happiest?
46:00 – Any asks or requests for the audience?