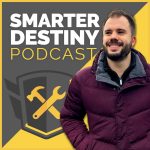 John Lee Dumas is the founder and host of Entrepreneurs On Fire, an award-winning podcast with over a 100 M listens and over 3000 guests to date. Today JLD tells us about his story, the incredible growth of his podcast and his new book, The Common Path to Uncommon Success.
Bullet points
00:50 – Intro
01:52 – The start as an entrepreneur
03:20 – Starting the daily podcast
05:45 – Growing the podcast
07:54 – Choosing the right equipment
10:25 – Starting the revenue reports
12:32 – Finding a way to start making money
13:40 – Getting into writing
16:28 – Where to find The Common Path to Uncommon Success
19:57 – The best piece of advice
20:30 – Rapid fire question round
21:10 – If you ever had to start again, how would you make your money?
21:21 – What is the most common or biggest mistake that you see leaders making?
21:32 – Who is the best leader ever (alive or dead) and why?
21:55 – How do you hire top talent?
22:05 – How do you evaluate a good business deal?
22:52 – How do you identify a good business partner?
23:23 – What is one of your proudest moments?
23:35 – What is one interesting fact about you that not many people would know?
23:54 – What daily routines do you have (morning or evening) that have helped make you successful?
24:10 – What book (or books) changed your mindset or life?
24:39 – What is the most exciting question you spend your time thinking about?
25:01 – What advice would you give your younger self?
25:20 – What was your biggest challenge starting in business and how did you overcome it?
25:33 – What unusual or underrated food or drink should more people try out?
25:44 – What makes you happiest?