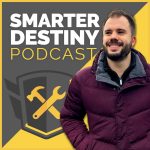 Michael Martocci is the CEO and founder of SwagUp, an incredibly fast growing company that is just 3 years old and is 8-figures bootstrapped. Today we will discuss how to transition from founder to CEO and how to build a tech company when you are not technical. We will also touch on how to bootstrap and effectively manage your cash when you are growing, and how to make great decisions that help you grow a company to scale quickly. All this and much more, up next.
Bullet points
00:50 – Intro
03:21 – The start as an entrepreneur
06:20 – Meeting Richard Branson and dropping out from school
09:34 – The sport business with NFL
11:53 – SwagUp
14:25 – Why clients need Swag
19:20 – Growing quickly
23:32 – Understanding the Cash Conversion Cycle
26:43 – Where to learn more about the CCC
28:26 – Acquiring customers
31:50 – Transitioning from founder to CEO
37:40 – Signs you need to hire, and how to do it
43:39 – Where to find out more
44:35 – Rapid fire question round
45:15 – If you ever had to start again, how would you make your money?
47:49 – What is the most common or biggest mistake that you see leaders making?
49:41 – Who is the best leader ever (alive or dead) and why?
51:17 – How do you hire top talent?
54:10 – How do you evaluate a good business deal?
56:18 – How do you identify a good business partner?
59:22 – What is one of your proudest moments?
01:02:14 – What is one interesting fact about you that not many people would know?
01:03:45 – What daily routines do you have (morning or evening) that have helped make you successful?
01:05:35 – What book (or books) changed your mindset or life?
01:10:55 – What is the most exciting question you spend your time thinking about?
01:12:45 – What advice would you give your younger self?
01:14:30 – What was your biggest challenge starting in business and how did you overcome it?
01:19:11 – What unusual or underrated food or drink should more people try out?
01:20:43 – What makes you happiest?
01:23:09 – Any asks or requests for the audience?