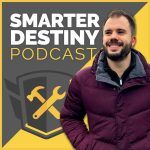 Ali Mirza is the founder and CEO at Rose Garden Consulting, a 7-figure business that teaches big companies to become bigger by selling better. They focus on your sales team and making them better, and they do that through a strength in behavioral economics, teaching why people make decisions, what makes them tick and how you can leverage that understanding to sell better, even when it comes to high-ticket items. In this episode we will get into selling, and we are going to apply it to the daily lives and the daily routines of us, the listeners, because, in life, so much is a negotiation.
Bullet points
00:32 – Intro
02:40 – The start as an entrepreneur
04:53 – A wake up call: Getting fired
05:42 – Starting Rose Garden and beginning to scale
07:27 – The story behind the name of the company
08:53 – &BAM
10:57 – The insurance sales pitch
12:53 – Behavioral economics: What does it mean?
15:36 – Where to start: Who the ideal client, and two theories
20:47 – Are there any particular questions you enjoy asking?
23:51 – How many people do you need to talk to?
25:10 – How to get the clients to give you their time
26:30 – A real world example of "why"
31:35 – How refined do you have to get on the "why"?
35:07 – Why the people that are the most adaptable are the ones who survive
40:28 – Who do you work with?
41:33 – What incentive works the best for incentivizing a sales team?
42:47 – Where to find out more
42:57 – Rapid fire question round
43:45 – If you ever had to start again, how would you make your money?
44:26 – What is the most common or biggest mistake that you see leaders making?
45:51 – Who is the best leader ever (alive or dead) and why?
46:20 – How do you hire top talent?
47:00 – How do you evaluate a good business deal?
49:03 – How do you identify a good business partner?
49:30 – What is one of your proudest moments?
49:28 – What is one interesting fact about you that not many people would know?
50:22 – What daily routines do you have (morning or evening) that have helped make you successful?
51:15 – What book (or books) changed your mindset or life?
52:52 – What is the most exciting question you spend your time thinking about?
53:51 – What advice would you give your younger self?
55:42 – What was your biggest challenge starting in business and how did you overcome it?
57:44 – What unusual or underrated food or drink should more people try out?
58:48 – What makes you happiest?
01:00:09 – Any asks or requests for the audience?