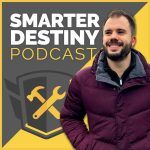 Dean Graziosi is a multiple New York Times bestselling author, entrepreneur and investor. He's started or played a major role in over 40 successful companies that have changed lives all around the world. His mission for over 20 years has been to deliver self education to those seeking transformation, fulfillment and success outside the traditional educational path. His most impactful project to date has included being the largest online product launch in history with a program he co-created with Tony Robbins. Dean is now planning to exponentially widen his impact through his Own your future challenge.
Also joining us, we have the amazing Maya Comerota – who shares her own success story and her mission.
Bullet points
(00:35) Intro
(02:45) The start as an entrepreneur
(06:21) Learning from Tony Robbins
(10:10) &BAM
(11:56) Impacting over a million new people with Own your future challenge
(16:00) A success story: Maya's message and purpose
(22:10) Overcoming impostor syndrome and moving forward
(23:30) Fight for what you want as if you were dying, because you are
(25:55) Rapid fire question round
(26:09) What is the most common or biggest mistake that you see leaders making?
(26:25) How do you identify a good business partner?
(26:31) What is one of your proudest moments?
(26:46) What is one interesting fact about you that not many people would know?
(26:59) What daily routines do you have (morning or evening) that have helped make you successful?
(27:18) – What book (or books) changed your mindset or life?
(27:45) – What is the most exciting question you spend your time thinking about?
(27:55) What advice would you give your younger self?
(28:19) What was your biggest challenge starting in business and how did you overcome it?
(28:33) What unusual or underrated food or drink should more people try out?
(28:56) What makes you happiest?
(29:12) Any asks or requests for the audience?