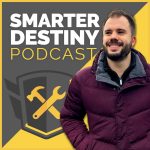 Yanik Silver truly redefines how business is played in the 21st century at the intersection of evolutionary growth, impact and fun. He is the creator of the Cosmic Journal, an amazing hand-crafted and hand-drawn journal, the author of Evolved Enterprise and the founder of Maverick1000, a global collective of visionary entrepreneurs making a serious difference in the world, without taking themselves too seriously. In today's episode we will be having a conversation around identity and culture, and why words truly matter both in business and in your personal life. We will also talk about the power of meditation and how to find your purpose. All this and much more, up next.
Bullet points
(00:32) Intro
(02:27) The start as an entrepreneur
(05:57) Getting into direct response marketing
(09:12) What principles still apply today when selling something? Providing a reason why
(13:58) Why words are important: Providing an identity
(16:43) &BAM
(18:32) Being an Internet marketing guru and helping people get their knowledge into the world
(20:28) The cosmic alarm clock moment
(22:06) Starting Maverick Business Adventures
(26:20) Maverick1000: Evolving and becoming profitable
(28:34) A conversation around identity and culture
(35:03) Finding your purpose: What questions should you ask yourself?
(40:22) Evolved Enterprise
(43:53) The Cosmic Journal
(47:37) Where to find out more
(48:48) Rapid fire question round
(49:29) If you ever had to start again, how would you find your purpose faster?
(50:31) What is the most common or biggest mistake that you see leaders making?(52:27) Living life more playfully
(01:00:30) Who is a great leader (alive or dead) and why?
(01:02:27) What is one of your proudest moments?
(01:03:13) What is one interesting fact about you that not many people would know?
(01:04:09) What daily routines do you have (morning or evening) that have helped make you successful?
(01:05:02) The power of meditation
(01:07:10) What book (or books) changed your mindset or life?
(01:12:53) What is the most exciting question you spend your time thinking about?
(01:13:23) What unusual or underrated food or drink should more people try out?
(01:15:01) What advice would you give your younger self?
(01:15:35) What makes you happiest?
(01:16:38) Any asks or requests for the audience?