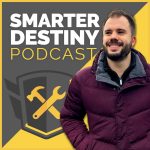 David Paynter is a former cricketer and the founder and CEO of Payntr, a 7-figure brand offering performance footwear. In this episode we will talk about how David's background helped him to identify a gap in the market and launch a successful brand that truly stands out. From the early prototype stages, to navigating both online and offline selling, David will share his journey to becoming the fastest growing cricket footwear brand in the world, now expanding into other sports. All this and much more, up next.
Bullet points
(00:55) Intro
(02:50) David's background
(07:30) The start as an entrepreneur: Identifying a gap in the market
(12:19) The early prototyping stages
(17:29) Growing and the story behind the name and logo
(24:03) &BAM
(25:50) Standing out and navigating online selling
(30:29) Managing cash flow
(32:49) Transitioning into golf
(37:15) Where to find out more
(38:13) Rapid fire question round
(38:31) If you ever had to start again, how would you make your money?
(39:29) What is the most common or biggest mistake that leaders make?
(40:43) Who is a great leader (alive or dead) and why?
(41:58) How do you hire top talent?
(43:33) How do you evaluate a good business deal?
(45:12) How do you identify a good business partner?
(46:44) What is one of your proudest moments?
(48:13) What is one interesting fact about you that not many people would know?
(50:55) What daily routines do you have (morning or evening) that have helped make you successful?
(52:18) What book (or books) changed your mindset or life?
(53:45) What is the most exciting question you spend your time thinking about?
(54:52) Which professional cricketer were you more excited to see wearing your shoe?
(56:55) Creating a limited edition pair
(57:58) What advice would you give your younger self?
(59:23) What unusual or underrated food or drink should more people try out?
(01:00:29) What makes you happiest?
(01:02:59) Any asks or requests for the audience?