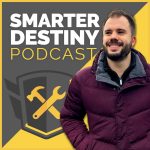 Kevin Kelly is an author and Senior Maverick at Wired, a magazine he helped co-found 28 years ago. His most recent book is The Inevitable, which is a New York Times and Wall Street Journal bestseller. Some of his other books include the best-selling New Rules for the New Economy, the classic Out of Control, and his summary theory of technology in What Technology Wants. After spending 40 years photographing the disappearing traditions of Asia, Kevin is compiling his best pictures in his newest book Vanishing Asia, a set of three volumes containing a 1,000-page celebration of old Asia in one book set.
Bullet points
(00:41) Intro
(03:47) The start as an entrepreneur
(08:51) Photography as a blend of tech and art: Documenting traditions in Taiwan
(12:48) Kevin's superpowers: The happening nose and discerning early trends
(16:38) Improv, playing along and crypto
(21:37) The future of NFTs
(24:21) &BAM
(26:06) The inevitable trends in technology
(34:06) The Internet, communication and collaboration
(37:321) Observing a trend: Moving away from owning things in favor of having access to things
(42:49) Thinking laterally and "the unthinkables"
(53:44) Could money disappear?
(45:37) Using writing to figure out what you think
(47:10) Writing for yourself
(49:08) Kevin's pieces of advice
(50:14) Vanishing Asia
(55:45) Rapid fire question round
(56:00) If you ever had to start again, how would you make your money?
(56:35) What is the most common or biggest mistake that leaders make?
(57:11) Who is a great leader (alive or dead) and why?
(57:47) How do you hire top talent?
(58:51) Do you or have you ever responded to the people in the early days who declared the Internet was a fad?
(01:01:57) How do you identify a good business partner?
(01:02:41) What is one of your proudest moments?
(01:05:30) What is one interesting fact about you that not many people would know?
(01:06:47) What daily routines do you have (morning or evening) that have helped make you successful?
(01:10:31) What book (or books) changed your mindset or life?
(01:13:04) What is the most exciting question you spend your time thinking about?
(01:16:06) What advice would you give your younger self?
(01:16:52) What unusual or underrated food or drink should more people try out?
(01:17:26) What makes you happiest?
(01:18:45) Any asks or requests for the audience?