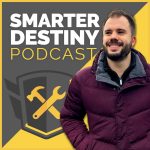 Fiona Macintyre is the founder and CEO at Forming Impact and a thought leader in sustainable development. She leads a network of CEOs, entrepreneurs, creatives and investors, together driving solutions to the challenges of our lifetimes. With flagship initiatives and events such as Necker Island and the United Nations SDG Week, Fiona is an expert in bringing global players from the private sector to the impact world. She is also a respected investor focusing on ventures in the sustainable impact sector.
Bullet points
(00:30) Intro
(03:00) The start as an entrepreneur
(05:01) The importance of being sustainable
(09:55) Ending up on Necker Island with a forward-thinking idea: How can we deliver our message in a bigger way?
(13:40) Starting a passion project to bring people together: Forming Impact
(16:03) The early stages of the project
(17:57) The loneliness of being an entrepreneur
(23:34) &BAM
(25:21) The Forming Impact community
(30:40) Where to find out more
(32:12) Rapid fire question round
(32:39) If you ever had to start again, how would you make your money?
(33:40) What is the most common or biggest mistake that leaders make?
(34:17) Who is a great leader (alive or dead) and why?
(35:06) What is one of your proudest moments?
(36:31) What is one interesting fact about you that not many people would know?
(37:32) What daily routines do you have (morning or evening) that have helped make you successful?
(39:21) What book (or books) changed your mindset or life?
(41:27) What is the most exciting question you spend your time thinking about?
(43:27) What advice would you give your younger self?
(44:22) What unusual or underrated food or drink should more people try out?
(47:39) What makes you happiest?
(48:54) Any asks or requests for the audience?