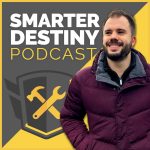 Adam Pivko is the Co-founder and Chief Strategy Officer at Autumn DNA. After helping hundreds of founders and brands improve their businesses, Adam co-founded Autumn DNA, a revolutionary company that offers clinically-researched, personalized vitamins and supplements backed by your DNA and lifestyle. Today Adam will share his story, from getting into graphic design, to sales, to the health scare that inspired him to take action and create his revolutionary business.
Bullet points
(00:28) Intro
(02:43) The start as an entrepreneur
(04:19) Getting into sales
(07:17) From a health scare to creating Autumn
(13:25) Starting a business with integrity
(16:59) The problem with nutritional education
(19:22) How Autumn DNA stands out
(23:00) Giving back: Partnering with Vitamin Angels
(25:42) Rapid fire question round
(26:00) If you ever had to start again, how would you make your money?
(26:35) What is the most common or biggest mistake that leaders make?
(27:11) Who is a great leader (alive or dead) and why?
(28:13) How do you evaluate a good business deal?
(30:01) How important is affiliate marketing in 2022?
(35:15) What is one of your proudest moments?
(36:46) What is one interesting fact about you that not many people would know?
(37:44) What daily routines do you have (morning or evening) that have helped make you successful?
(40:49) What book (or books) changed your mindset or life?
(43:07) What is the most exciting question you spend your time thinking about?
(48:13) What advice would you give your younger self?
(49:30) What was your biggest challenge starting in business and how did you overcome it?
(50:26) What unusual or underrated food or drink should more people try out?
(51:46) What makes you happiest?