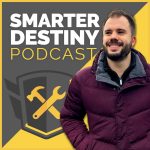 Ivo Devereux co founder and head of business development of Sapling Spirits, a 7-figure UK business founded on October 2018. Sapling Spirits is the first climate positive spirit business, tackling climate change through regenerative farming and reforestation. Today Ivo will share his journey, from planting trees to making vodka and learning the secrets to successful B2B selling. All this and much more, up next.
Bullet points
(00:05) Intro
(02:26) The start as an entrepreneur
(08:13) Looking into how to start a sustainable business
(07:00) From planting trees to making vodka
(12:15) Sapling Spirits: Buying a distillery and learning the process
(14:45) How it works
(16:40) What is regenerative wheat?
(20:10) The marketing strategy
(24:46) Selling B2B
(29:00) Where to find out more
(30:10) Rapid fire question round
(30:50) If you ever had to start again, how would you make your money?
(30:45) What is the most common or biggest mistake that leaders make?
(30:55) Who is a great leader (alive or dead) and why?
(31:05) How do you hire top talent?
(31:40) How do you evaluate a good business deal?
(32:06) What is one of your proudest moments?
(32:20) What is one interesting fact about you that not many people would know?
(33:18) What daily routines do you have (morning or evening) that have helped make you successful?
(34:50) What book (or books) changed your mindset or life?
(35:45) What is the most exciting question you spend your time thinking about?
(37:05) What advice would you give your younger self?
(37:30) What unusual or underrated food or drink should more people try out?
(38:20) What makes you happiest?