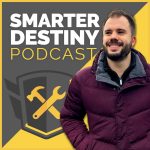 Ronnie Teja is the founder of Branzio Watches, an 8-figure watch company for young professionals looking for beautiful watches to wear with pride. Ronnie is an expert on digital marketing, building real brands, advertising and scaling massive remote teams. He is also a speaker and presenter at different summits all over the world. Today Ronnie will share his story, from picking blueberries, to starting his own agency and founding Branzio Watches. All this and much more, up next.
Bullet points
(00:15) Intro
(02:28) The start as an entrepreneur
(04:30) Getting into digital marketing and media buying
(07:52) Starting an agency
(08:46) Getting into watches
(14:24) Media spending
(19:11) Partnering with content sites
(23:10) Structuring the deal
(25:04) Buying websites
(26:32) Where does most traffic come from?
(28:27) Performance marketing
(30:50) Where to find out more
(31:19) Rapid fire question round
(31:39) If you ever had to start again, how would you make your money?
(32:25) What is the most common or biggest mistake that leaders make?
(32:44) Who is a great leader (alive or dead) and why?
(33:28) How do you evaluate a good business deal?
(34:29) What is one of your proudest moments?
(34:57) What is one interesting fact about you that not many people would know?
(35:20) What daily routines do you have (morning or evening) that have helped make you successful?
(36:05) What book (or books) changed your mindset or life?
(37:25) What is the most exciting question you spend your time thinking about?
(38:33) What was your biggest challenge starting in business and how did you overcome it?
(39:00) What unusual or underrated food or drink should more people try out?
(39:38) What makes you happiest?