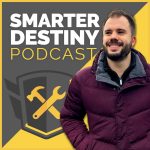 Akshay Mohunta is the founder and CEO of HITS Direct Response Design Studio, where he works with brands and businesses to help conceptualize, design and optimize profitable direct response online campaigns. He has been in business for 11 years, has grown into a multiple 7-figure brand serving up to 9-figure brands from referrals alone. Some of his celebrity clients include Mike Tyson, Tommy Chong and Jennifer Stallone. In this episode we are to get into the weeds about performance, conversion rates, add hacks, tricks and strategies that will enable you to do better in 2022.
(00:12) Intro
(02:22) The start as an entrepreneur
(06:00) The different stages of the sales funnel
(14:38) Best performing ads
(17:56) What elements are important in the pre-sell?
(18:20) What not to do
(19:30) What to do
(23:03) Getting stories from your customers
(27:39) Measuring the bounce rate
(29:33) Doing VSL
(31:25) Native ads
(35:36) The product page
(38:55) The checkout page
(42:05) Being driven by a social cause
(48:34) Rapid fire question round
(48:56) Who is a great leader (alive or dead) and why?
(49:11) What is one of your proudest moments?
(50:14) What is one interesting fact about you that not many people would know?
(51:25) What book (or books) changed your mindset or life?
(51:42) What daily routines do you have (morning or evening) that have helped make you successful?
(52:05) What advice would you give your younger self?
(52:17) What unusual or underrated food or drink should more people try out?
(53:03) What makes you happiest?
(54:16) Where to find out more