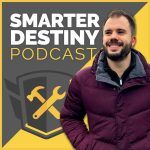 Quinn Hobbs is the founder and winemaker at Hollow Wines, a 7-figure ethical wine brand producing fantastic wines as they are supposed to be: as free from additives as humanly possible while ethically employing people, sustainably farming the grapes and educating the world about how we can produce amazing things without a terribly bad impact on the planet. Today Quinn will share his story, from a former bicycle enthusiast turned marketer/entrepreneur to getting into natural wine making. All this and much more, up next.
(00:09) Intro
(02:47) The start as an entrepreneur
(07:38) Getting into ecommerce
(10:29) Getting into wine
(13:40) Why wine?
(16:30) Approaching different challenges
(20:32) Finding farmers
(23:34) What is a natural wine?
(26:16) Why most wines are not vegetarian
(30:39) Where to find out more
(32:46) Rapid fire question round
(33:01) If you ever had to start again, how would you make your money?
(34:48) What is the most common or biggest mistake that leaders make?
(36:27) Who is a great leader (alive or dead) and why?
(38:26) How do you hire top talent?
(39:42) What is one of your proudest moments?
(41:19) What is one interesting fact about you that not many people would know?
(43:14) What daily routines do you have (morning or evening) that have helped make you successful?
(45:47) What book (or books) changed your mindset or life?
(46:37) What advice would you give your younger self?
(48:33) What unusual or underrated food or drink should more people try out?
(51:46) What makes you happiest?
(52:48) Any asks or requests for the audience?