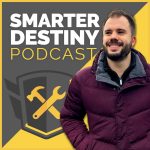 Alexander Fedotoff is a recognized ecommerce leader and Facebook Ads strategist who runs his own brands, consults, teaches and runs large communities on the topic of ecommerce. Alexander is the Founder and CMO at AF Media, an agency focused on helping ecommerce businesses scale with the power of paid traffic. He has helped multiple well-known brands grow sales and brand awareness, maximizing ROI across social media platforms and email marketing campaigns.
Bullet points
00:30 – Intro
02:40 – Transitioning from a traditional job to the entrepreneur life
07:30 – Choosing what to do next
10:40 – How to learn a new skill
14:15 – Expanding and hiring people
19:30 – The staff's key roles
20:45 – What works best for video ads
25:20 – The importance of funnels
29:03 – Funnel building
31:00 – Choosing clients
35:45 – Differentiating yourself from other agencies
38:30 – Working with Lululemon
42:20 – What's next: building an ecommerce brand
45:18 – Rapid fire question round
45:35 – Any unusual drinking or eating habits?
46:23 – How do you get into a state of flow?
48:41 – What habit or opinion do you have that people tend to disagree with?
52:47 – What does the first 30 minutes of your day look like and when does it start?
55:49 – What non-traditional lesson would you teach at school?
01:00:33 – What books had the biggest impact on your life?
01:07:30 – What do you do or where do you go to get inspired?
01:08:40 – How would you double USD 5K in 24h?
01:10:08 – What's the best advice ever given to you?
01:12:02 – What silly thing should people do more of?
01:13:28 – Would you rather fight one horse-sized duck or one hundred-duck sized horses?
01:14:45 – How would you convince someone to do something that is good for them, but that they don't want to do?
01:16:05 – What makes you happiest?
01:18:34 – Any asks or requests for the audience?