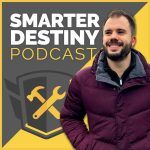 Roland Frasier is a serial entrepreneur, business mentor, investor and a lawyer. He's truly passionate about business and has been advising massive brands on both business and legal-related issues. His specialties include scaling businesses through the design and implementation of marketing campaigns, as well as negotiating, structuring and funding mergers and acquisitions, among many others. Roland is constantly looking for businesses to buy, re-position and sell, and shares his story on today's episode of Smarter Destiny Podcast.
Bullet points
00:30 – Intro
03:21 – The first jobs
05:40 – Getting a real estate broker's licence at 18
11:17 – Playing in a band
13:16 – Moving into real estate syndication and business investments
18:25 – The importance of surrounding yourself with diverse people
19:30 – The next step: buying and selling companies
26:00 – The skill that makes you good at this: the hunger to learn and improve
27:14 – Applying I.R.A.C. to the decision-making process
28:02 – Spotting an opportunity
30:40 – Focusing on revenue, profits and valuation
31:40 – Managing opportunities
35:20 – Identifying one-in-a-lifetime opportunities
44:42 – Getting into digital marketing
46:05 – The story about "Wicked Smart"
51:02 – Deciding how much to participate
53:30 – The difference between being an advisor vs. helping for free
54:05 – Current companies
56:05 – The "Business lunch" podcast
58:00 – Rapid fire question round
58:16 – Any unusual drinking or eating habits?
58:58 – How do you get into a state of flow?
01:00:58 – What habit or opinion do you have that people tend to disagree with?
01:04:07 – What non-traditional lesson would you teach at school?
01:06:12 – What books had the biggest impact on your life?
01:07:29 – What do you do or where do you go to get inspired?
01:08:27 – What does the first 30 minutes of your day look like and when does it start?
01:14:45 – How would you double USD 5K in 24h?
01:15:58 – What's the best advice ever given to you?
01:16:56 – What silly thing should people do more of?
01:17:26 – How would you convince someone to do something that is good for them, but that they don't want to do?
01:18:50 – Would you rather fight one horse-sized duck or one hundred-duck sized horses?
01:19:52 – What makes you happiest?
01:21:52 – Any asks or requests for the audience?