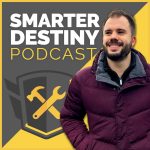 Alex Brown is an ecommerce entrepreneur, crowdfunder, speaker and active consultant with countless success stories under his belt. After building The Beard Club to $10M in its first year, his passion for startups and helping companies grow led him to share his knowledge through advisory work and on multiple stages all around the world.
Bullet points
00:30 – Intro
04:30 – The start of the entrepreneurial journey
08:00 – The college experience
10:20 – Meeting a business partner
11:20 – Raising money on crowdfunding
16:20 – How to have a successful campaign
20:05 – What to do before launching
22:35 – The most important drivers behind pre-launch in today's age
24:30 – The Dollar Beard Club
28:22 – Getting funding and cash flow
31:50 – Selling in the USA, Canada and globally
35:00 – Focus on encouraging consumption
34:50 – Don't overcomplicate things
40:00 – Subscriptions aren't always the best strategy
41:23 – The importance of social and environmental consciousness in brands
44:30 – You don't have to be perfect
51:18 – Stepping back from the day-to-day operation
57:52 – The Mastermind event
01:01:16 – Rapid fire question round
01:01:18 – Any unusual drinking or eating habits?
01:05:07 – How do you get into a state of flow?
01:06:37 – What silly thing should people do more of?
01:07:24 – What habit or opinion do you have that people tend to disagree with?
01:09:45 – What non-traditional lesson would you teach at school?
01:12:29 – What books had the biggest impact on your life?
01:14:07 – What do you do or where do you go to get inspired?
01:15:05 – What's the best advice ever given to you?
01:16:17 – Would you rather fight one horse-sized duck or one hundred-duck sized horses?
01:17:22 – How would you convince someone to do something that is good for them, but that they don't want to do?
01:19:13 – What makes you happiest?
01:22:00 – Any asks or requests for the audience?