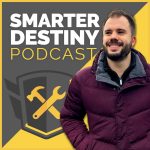 Matt Schmitt is a serial entrepreneur, a Shopify store owner and a Facebook and Google ads expert. Matt is the Chief Content Officer at Smar7 Apps (now rebranded as SKUP) and has taught thousands of students how to make money online. Today he joins the show to discuss marketing, funnels and how digital businesses changed over the last years.
Bullet points
00:30 – Intro
04:50 – Transitioning from being an employee to being your own boss
13:00 – Quitting your job
15:55 – The most important metrics for updates on your company
18:53 – Transitioning from Teespring over to a Shopify store
22:19 – Acquiring Smar7 Apps
24:00 – Your top three biggest strengths when running businesses
26:50 – The biggest changes over the last two years for digital businesses
31:30 – The stages and messaging on your funnel
38:00 – The Smar7 Apps business
41:00 – The funnel on Smar7 Apps
46:05 – The difference between successful and unsuccessful students
53:40 – The onboarding of new students: mindset training
56:05 – Rapid fire question round
56:18 – Any unusual drinking or eating habits?
58:05 – How do you get into a state of flow?
59:16 – What does the first 30 minutes of your day look like and when does it start?
01:00:05 – What habit or opinion do you have that people tend to disagree with?
01:02:05 – What non-traditional lesson would you teach at school?
01:03:30 – What books had the biggest impact on your life?
01:05:07 – Any advice for your previous boss or bosses?
01:06:26 – What do you do or where do you go to get inspired?
01:08:50 – How would you double USD 5K in 24h?
01:10:25 – What's the best advice ever given to you?
01:12:00 – What silly thing should people do more of?
01:14:00 – Would you rather fight one horse-sized duck or one hundred-duck sized horses?
01:15:21 – What makes you happiest?
01:17:20 – Any asks or requests for the audience?