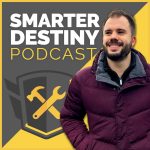 Victor Delacruz is a former Air Force Officer and the founder and CEO of The Christian Planner, a 7-figure company that helps christians integrate God into their daily life. Victor founded The Christian Planner in 2016, hit number 92 on the Inc. 5000 in 2020 and they currently have 50,000 active users. After 4 years of military service, Victor moved to Manhattan to attend graduate school at NYU and to chase his dreams. The pressures of the Big Apple quickly got to him and depression soon followed. Victor created the Christian Planner as a way to schedule time with God in his own routine. He quickly realized that including Christ in his daily goal-setting, planning and journaling routine made him more productive, more focused and less prone to stress and anxiety. He decided to start Christian Planner to help other Christians put Christ at the center of their daily routines and experience the same benefits he did.
Bullet points
(00:26) Intro
(01:50) The start as an entrepreneur
(05:12) The first jobs
(07:53) Selling human-centered products
(10:43) Why people choose The Christian Planner
(12:19) Customer acquisition: How 2022 compares to 2016
(16:57) Launching a business in 2022: Having an omnichannel approach
(20:26) Where to find out more
(20:36) Rapid fire question round
(20:56) If you ever had to start again, how would you make your money?
(21:57) What is the most common or biggest mistake that leaders make?
(22:42) Who is a great leader (alive or dead) and why?
(24:25) How do you hire top talent?
(25:13) What is one of your proudest moments?
(26:50) What is one interesting fact about you that not many people would know?
(28:47) What daily routines do you have (morning or evening) that have helped make you successful?
(30:23) What book (or books) changed your mindset or life?
(33:51) With an impending recession and the changes in the economy, what advice do you have or what changes are you making in your business to make it recession proof? And what would you advise others to do?
(35:01) What unusual or underrated food or drink should more people try out?
(35:35) What makes you happiest?
(36:44) Any asks or requests for the audience?