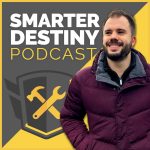 Joseph Wilkins is the founder of FunnySalesVideos.com and the host of How To Make A Video Go Viral Podcast. Joseph Wilkins founded ProCreative Studios in 2000, which produced infomercials, TV spots & marketing videos for clients including Google, Linkedin, McDonalds, Goldman Sachs, Chevrolet & Home Depot. As viewing habits shifted away from TV, Joseph launched FunnySalesVideos.com where he creates attention-grabbing "viral style" sales videos that get millions of views and converts cold traffic into sales. With 20 years experience, hundreds of millions of views and over $250 million in career sales, today Joseph will share the 8 steps anyone can follow to drive sales. All this and much more, up next.
Bullet points
(00:07) Intro
(02:24) The start as an entrepreneur
(04:49) The first pivot: Starting a video production company
(05:10) The second pivot: Going online
(08:38) Choosing humor as a form of entertainment
(16:23) How to reach out to anyone you want to connect with
(20:36) The 8 steps to produce a funny sales video
(21:42) First step: Discovery
(22:24) Second: Brainstorm
(23:40) Third: Scripting
(25:05) Fourth: Adding comedy
(25:48) Fifth: Production
(26:51) Sixth: Editing
(27:47) Seventh: Testing
(28:12) Eight: Forget "viral"
(29:10) The necessary evil of vertical video
(33:23) Grabbing and retaining attention
(39:45) Where to find out more
(40:20) Rapid fire question round
(40:35) If you ever had to start again, how would you make your money?
(41:22) What is the most common or biggest mistake that leaders make?
(42:00) Who is a great leader (alive or dead) and why?
(42:55) How do you hire top talent?
(44:48) What is one of your proudest moments?
(47:26) What is one interesting fact about you that not many people would know?
(48:22) What book (or books) changed your mindset or life?
(49:18) What is the most exciting question you spend your time thinking about?
(50:17) What unusual or underrated food or drink should more people try out?
(51:05) With an impending recession and the changes in the economy, what advice do you have or what changes are you making in your business to make it recession proof? And what would you advise others to do?
(56:00) What makes you happiest?