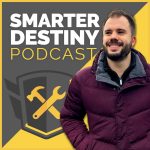 James Van Elswyk is an entrepreneur and speaker with years of experience in marketing, media buying and growth optimization. As the CEO and Founder of Purple Leads, James helps companies scale up by building teams and optimizing performance. Having multiple success stories under his belt, he currently travels all over the world to manage his multiple businesses in multiple countries, and has a secret plan for a groundbreaking platform.
Bullet points
00:30 – Intro
02:00 – The beginning
05:00 – Leaving college to become an entrepreneur
06:13 – The first big failure: opening a restaurant and learning about costs
10:30 – The next business: a call center for the US mortgage crisis
15:10 – Finding and incentivizing staff
20:20 – Moving to another vertical: student loan consolidation
22:27 – Predicting costs
23:35 – Having problems and firing people
28:45 – Dealing with failure
33:10 – Reentering the game
35:05 – The importance of partnering
37:00 – Native advertising
39:20 – The next business: solar panels
41:30 – Negotiating with clients
44:52 – Getting paid
46:08 – The current businesses
50:45 – Delegating to a team
52:15 – Linking the different businesses together
55:26 – Evaluating deals
58:08 – The vision for the future
60:30 – Creating a platform
01:02:25 – Rapid fire question round
01:02:58 – Any unusual drinking or eating habits?
01:05:10 – How do you get into a state of flow?
01:07:52 – What does the first 30 minutes of your day look like and when does it start?
01:11:03 – What habit or opinion do you have that people tend to disagree with?
01:12:38 – What non-traditional lesson would you teach at school?
01:15:20 – What books had the biggest impact on your life?
01:18:00 – What do you do or where do you go to get inspired?
01:22:06 – How would you double USD 5K in 24h?
01:22:43 – What's the best advice ever given to you?
01:23:37 – What silly thing should people do more of?
01:24:29 – Would you rather fight one horse-sized duck or one hundred-duck sized horses?
01:25:18 – How would you convince someone to do something that is good for them, but that they don't want to do?
01:26:33 – What makes you happiest?
01:28:03 – Any asks or requests for the audience? – Suggest me some great books or any learning materials at james@purpleleads.com or any of my channels.