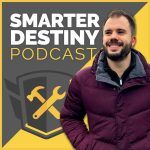 Moiz Ali is a Harvard lawyer turned entrepreneur, investor and speaker. After selling his first business, a flash sales site for spirits called Caskers, Moiz founded Native. The company specializes in creating high-quality natural care products, and it's the fastest growing CPG company in the United States, with over 1 million customers nationwide. The company was acquired for $100 Million in November 2017. Today Moiz is an active investor in over 100 startups, and a speaker on stages across the world.
Bullet points
00:30 – Intro
02:30 – Working as a lawyer
05:05 – Quitting the perfect job and starting an online business: Caskers
09:40 – Getting free press
13:25 – The first profits
15:15 – Selling the company
17:30 – The next steps
20:30 – Starting a new business: Native
22:10 – Becoming an expert in natural care
25:30 – Finding the right manufacturer
31:00 – Focusing on product quality
34:30 – Advertising and taking advantage of trends
39:45 – Starting to sell internationally
41:40 – The Procter & Gamble acquisition
52:20 – Rapid fire question round
52:50 – Any unusual drinking or eating habits?
53:55 – How do you get into a state of flow?
56:03 – What habit or opinion do you have that people tend to disagree with?
57:43 – What non-traditional lesson would you teach at school?
58:20 – What books had the biggest impact on your life?
01:00:33 – Any advice for your previous boss or bosses?
01:03:20 – What do you do or where do you go to get inspired?
01:04:25 – How would you double USD 5K in 24h?
01:04:55 – What's the best advice ever given to you?
01:06:20 – What silly thing should people do more of?
01:06:54 – Would you rather fight one horse-sized duck or one hundred-duck sized horses?
01:07:31 – How would you convince someone to do something that is good for them, but that they don't want to do?
01:08:10 – What makes you happiest?