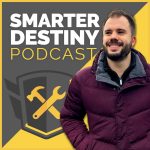 Mehtab Bhogal is a young entrepreneur who has built several engaged communities around his passions and turned them into huge companies with massive preorders. He is the Co-Founder of Karta Ventures, a company that specializes in providing consumer brands or ecommerce stores with a funding source to fuel growth.
Bullet points
00:30 – Intro
01:50 – The first experience as an entrepreneur: creating a community
03:10 – Dropping out of college
05:10 – Working in digital marketing
06:50 – The guitar community
11:25 – The top three strategies for building a strong community
13:10 – Starting to monetize
14:00 – Getting other forums to participate in the community
15:05 – Facebook Groups and other options
18:15 – The transition towards Horizon Devices
21:25 – The beginning of Karta Ventures
23:30 – Looking to invest in other companies
24:45 – Karta Ventures investments
29:35 – Getting capital for deals
33:30 – When to resell the company
35:23 – Scaling the deal flow
36:50 – The most common mistakes in ecommerce
38:37 – Identifying a smart business owner
40:10 -The characteristics of the best businesses
42:10 – Rapid fire question round
42:38 – Any unusual drinking or eating habits?
43:09 – How do you get into a state of flow?
45:40 – What habit or opinion do you have that people tend to disagree with?
47:57 – What non-traditional lesson would you teach at school?
50:32 – What books had the biggest impact on your life?
53:00 – What does the first 30 minutes of your day look like and when does it start?
55:57 – Any advice for your previous boss or bosses?
57:01 – What do you do or where do you go to get inspired?
59:00 – How would you double USD 5K in 24h?
01:00:00 – What's the best advice ever given to you?
01:02:28 – What silly thing should people do more of?
01:02:55 – Would you rather fight one horse-sized duck or one hundred-duck sized horses?
01:03:33 – How would you convince someone to do something that is good for them, but that they don't want to do?
01:04:25 – What makes you happiest?
01:05:15 – Where to reach Mehtab
01:06:02 – Any asks or requests for the audience?