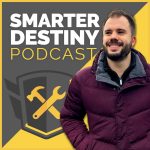 Entrepreneur and investor Jason Harward shares his progress from high-school dropout and dumpster diver to multimillionaire, race car driver and social media mentor. Find out the full story on how he went from selling home-made stickers to owning several multimillion-dollar businesses in this episode of Smarter Destiny.
Show notes
00:30 – Introduction Jason Harward
03:45 – What is dumpster diving and why did you do it?
05:50 – What are you thinking at that time on your journey?
08:40 – What was the next step?
09:46 – Could you mention any important failure you had a that time?
11:15 – How did you decided to leave that business?
15:00 – What was your sticker POD business like?
23:28 – What was your next move?
26:50 – What's your favorite data?
29:50 – What is your testing process like?
32:45 – What made you move away from selling stickers?
36:10 – Was it during this time that you won your first awards?
41:20 – What led you to your next step?
43:15 – How did you manage all those orders at once?
44:45 – How many brands you have now?
46:45 – What level are you on right now?
51:25 – What is "the challenge" for you?
53:45 – Why are you documenting this?
54:45 – Where are you documenting this?
56:20 – What kind of problems you've met on your path?
57:35 – Where is your traffic going to come from?
59:01 – Tell us about de Million Dollar Day 2019 Facebook group
1:00:45 – RAPID FIRE QUESTIONS ROUND
1:01:16 – Any unusual drinking or eating habits?
1:01:50 – How do you get into a state of flow?
1:03:01 – What habit or opinion you have that people tend to disagree with?
1:05:22 – What nontraditional lesson would you teach at school?
1:10:22 – What books had the biggest impact on your life?
1:10:55 – What do the first 30 minutes of your day look like and when does it start?
1:12:16 – Any advice for your previous boss or bosses?
1:13:30 – What do you do or where do you go to get inspired?
1:14:11 – How would you double U$S 5K in 24h?
1:14:42 – What's the best advice ever given to you?
1:15:35 – What silly thing people should do more of?
1:16:08 – Would you rather fight one horse sized duck or one hundred duck sized horses?
1:17:35 – How would you convince someone to do something that is good for them, but don't want to do it?
1:17:35 – What makes you happiest?