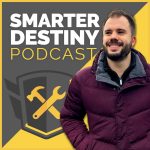 Depesh Mandalia is an experienced internet marketing entrepreneur and international speaker. Founder and CEO of SM Commerce, a digital marketing agency specialising in Facebook, he's on a mission to help entrepreneurs and marketers achieve their goals by building highly profitable businesses through online advertising. An international speaker and Advisor at Facebook, he leads one of the most engaged Facebook ads groups and hosts events to help others learn from his broad experience, furthering his mission to create a positive impact in the world.
Show Notes Depesh Mandalia
00:30 – Introduction Depesh Mandalia
02:40 – Could you tell us about the time that was the starting point of your current journey?
16:02 – How was it that you "called the attention of Facebook"?
17:58 – How did you transitioned from the children's book company to the next thing on your journey?
33:05 – Was this time of your life fulfilling for you?
39:45 – Making money vs making impact
42:55 – What are some of the most common mistakes that you see?
46:45 – And what opportunities people miss often?
50:05 – RAPID FIRE QUESTIONS ROUND

53:23 – Any unusual drinking or eating habits?
55:22 – How do you get into a state of flow?
59:15 – What nontraditional lesson would you teach at school?
01:02:02 – What books had the biggest impact on your life?
01:04:35 – What do the first 30 minutes of your day look like and when does it start?
01:06:19 – Any advice for your previous boss or bosses?
01:07:35 – What do you do or where do you go to get inspired?
01:08:20 – How would you double USD 5K in 24h?
01:09:21 – What's the best advice ever given to you?
01:10:05 – What silly thing people should do more of?
01:10:40 – Would you rather fight one horse sized duck or one hundred duck sized horses?
01:11:26 – How would you convince someone to do something that is good for them, but don't want to do it?
01:12:10 – What makes you happiest?
01:13:35 – What would you ask from the audience?