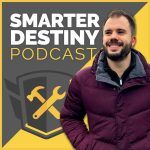 Jason Akatiff is an investor, entrepreneur and business advisor focusing on online marketing, advertising and education. He's the CEO and Founder at Jamiak Inc., building high quality consumer product brands and distributing through retail, Amazon and their own online stores. Find out his full story and the core values behind his success in today's episode of Smarter Destiny.
Show Notes
00:30 – Introduction Jason Akatiff
02:20 – Could you tell us about the starting point of your entrepreneurial journey?
07:30 – At that time, how did you make your money online?
10:15 – So, please explain in a deeper manner what you did back then.
10:55 – My principle "work harder on yourself than on your business"
12:15 – How did that transitioned to the next step?
18:35 – So, after all this success, what happened?
22:00 – What happened on 2012?
27:50 – How did you get passed that and moved on to the next thing?
33:56 – How did excel worked in the process?
36:00 – How did you do that with so little tools?
40:05 – At this point, what did you decide to do?
45:18 – What things did you put into place to build this model?
49:40 – What is it about the Master Mind that you are going to be part of that tiks your box?
RAPID FIRE QUESTIONS ROUND
55:11 – Any unusual drinking or eating habits?
56:58 – How do you get into a state of flow?
01:01:20 – What habit or opinion you have that people tend to disagree with?
01:07:05 – What nontraditional lesson would you teach at school?
01:13:10 – What books had the biggest impact on your life?
01:17:01 – What do the first 30 minutes of your day look like and when does it start?
01:19:40 – Any advice for your previous boss or bosses?
01:21:55 – What do you do or where do you go to get inspired?
01:25:10 – How would you double USD 5K in 24h?
01:26:37 – What's the best advice ever given to you?
01:28:10 – What silly thing people should do more of?
01:31:25 – Would you rather fight one horse sized duck or one hundred duck sized horses?
01:33:03 – How would you convince someone to do something that is good for them, but don't want to do it?
01:35:20 – What makes you happiest?