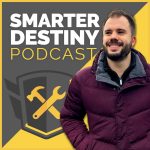 Ben Parr is an American journalist, author and entrepreneur, who was named to the Forbes 30 Under 30 in 2012. As the former Co-Editor of Mashable, he had the opportunity to really get into the entrepreneurial world. He is the author of Captivology, a book on the psychology of attention. Now he's an investor and advisor to startups, and the Co-Founder and CMO of Octane AI, a marketing automation and chatbot company for E-commerce.
Show Notes Ben Parr
00:30 – Introduction Ben Parr
03:05 – Could you paint a word picture of the beginning of your entrepreneurial journey?
09:02 – Where did this course you took lead you too next?
10:52 – What happened after this first job?
18:11 – How did your role in Mashable evolve?
24:20 – After writing so many articles, where did your path transitioned to?
31:28 – What's going on with TikTok?
38:23 – What is Captivology about?
40:10 – "You don't just get attention on and off, you build it over time"
41:50 – What are the most defining parts of your book?
44:55 – How did you get into "Forbes 30 under 30"?
48:10 – What brands are you currently advising?
52:40 – How did you started Octane AI?
54:55 – Where are you now with your company?
58:00 – QUICK FIRE QUESTION ROUND

59:25 – Any unusual drinking or eating habits?
01:01:40 – How do you get into a state of flow?
01:02:41 – What habit or opinion you have that people tend to disagree with?
01:05:58 – What nontraditional lesson would you teach at school?
01:07:20 – What books had the biggest impact on your life?
01:09:05 – What do the first 30 minutes of your day look like and when does it start?
01:09:48 – Any advice for your previous boss or bosses?
01:10:54 – What do you do or where do you go to get inspired?
01:11:25 – How would you double USD 5K in 24h?
01:12:20 – What's the best advice ever given to you?
01:13:20 – What silly thing people should do more of?
01:14:40 – Would you rather fight one horse sized duck or one hundred duck sized horses?
01:15:46 – How would you convince someone to do something that is good for them, but don't want to do it?
01:17:00 – What makes you happiest?
01:18:05 – Any asks or requests for the audience?