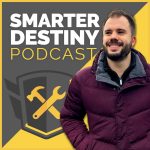 Kelly Vaughn is a twitter-famous developer, and Founder of The Taproom. Although she started coding at a very young age, Kelly went to college for something totally different: psychology and public health. With her agency she helps Shopify owners achieve their goals by providing solutions for fast-growing businesses. Find all her tips and secrets to improve your online store in today's episode of Smarter Destiny.
Show notes Kelly Vaughn
00:30 – Introduction Kelly Vaughn
03:05 – Could you paint a word picture about the starting of your entrepreneurial journey?
04:50 – Where did that first coding step took you to?
07:35 – What happened after this first website?
08:50 – How would you apply psychology to e-commerce?
10:45 – What happened after college?
12:15 – What made you complete the transition to shopify?
15:40 – Are you big on Twitter? What is the theme of your account?
17:30 – Did that Twitter account lead to a company you own?
22:15 – How long did you work on CDC?
23:55 – What did you do next?
25:20 – What is the Taproom and what do you do?
26:50 – What niches are your customers usually in?
27:40 – Name three areas that are quick wins for extra profit?
29:25 – What problems do you usually solve?
31:10 – Could you give us some more advice on how to make more money with an e-commerce business?
38:00 – What are the most common mistakes you see?
40:05 – What should a great blog look like?
43:50 – Where people can learn more about the Taproom?
46:30 – QUICK FIRE QUESTION ROUND

47:00 – Any unusual drinking or eating habits?
48:12 – How do you get into a state of flow?
49:45 – What habit or opinion you have that people tend to disagree with?
50:39 – What nontraditional lesson would you teach at school?
53:12 – What books had the biggest impact on your life?
54:51 – What do the first 30 minutes of your day look like and when does it start?
56:15 – Any advice for your previous boss or bosses?
57:11 – What do you do or where do you go to get inspired?
59:18 – How would you double USD 5K in 24h?
01:00:50 – What's the best advice ever given to you?
01:01:29 – What silly thing people should do more of?
01:02:36 – Would you rather fight one horse sized duck or one hundred duck sized horses?
01:03:28 – How would you convince someone to do something that is good for them, but don't want to do it?
01:04:35 – What makes you happiest?
01:05:30 – Any asks or requests for the audience?