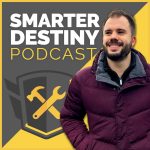 Celebrity branding and licencing expert Bernt Ullmann shares with us his personal journey and his unique perspective on branding. Known as the "The 6 Billion Dollar Man" and "The Man Behind the Brands," Mr. Ullmann has contributed to the launches of massively successful brands including Jennifer Lopez, Nicki Minaj, Tommy Hilfiger and many others. Find out the secrets to his success in this episode of Smarter Destiny.
Show Notes Bernt Ullmann
00:30 – Introduction Bernt Ullmann
01:55 – Why are you called the Six Billion Dollar Man?
08:25 – What is it that you do that makes a project grow every time? What is your secret?
16:12 – How do you identify the "Brand DNA"?
24:40 – Where can people get your "Billion Dollar Branding Blueprint" book?
25:37 – Do you have any starting point for knowing what is your Brand DNA?
29:43 – QUICK FIRE QUESTION ROUND

30:47 – Any unusual drinking or eating habits?
32:54 – How do you get into a state of flow?
35:31 – What habit or opinion you have that people tend to disagree with?
37:16 – What nontraditional lesson would you teach at school?
44:33 – What books had the biggest impact on your life?
46:29 – What do the first 30 minutes of your day look like and when does it start?
47:17 – Any advice for bosses in general?
49:07 – What do you do or where do you go to get inspired?
49:59 – How would you double USD 5K in 24h?
52:08 – What's the best advice ever given to you?
53:31 – What silly thing people should do more of?
54:25 – Would you rather fight one horse sized duck or one hundred duck sized horses?
55:26 – How would you convince someone to do something that is good for them, but don't want to do it?
56:20 – What makes you happiest?