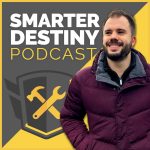 Cameron Herold is a top business consultant, best-selling author, and speaker. He's the mastermind behind hundreds of companies' exponential growth and he's touched thousands of businesses indirectly through his work.
At age 21, he had 14 employees. By 35, he'd helped build his first two 100 Million Dollar companies. By the age of 42, Cameron had engineered 1-800-GOT-JUNK?'s spectacular growth from $2 Million to $106 Million in revenue in just six years.
His companies landed over 5,200 media placements in those same six years, including coverage on Oprah.
Not simply a theory guy, Cameron teaches what he knows from experience and is passionate about sharing his expertise with
today's most dynamic business leaders.
00:30 – Introduction Cameron Herold
03:35 – Could you paint a word picture about the starting point on your entrepreneurial journey?
06:25 – What sort of things on your childhood were different from other kids that weren't raised to be entrepreneurs?
07:50 – What is a weird venture that springs to mind about those house painting days?
10:38 – At what point this painting/decorating houses transitioned to the next step of your path?
11:40 – Were there standout learnings about that particular time?
17:50 – What are the core values that you teach?
20:50 – What was the next step on your path?
24:05 – What was the secret for the growth of that company?
25:22 – At this point how close are we to the 1-800-GOT-JUNK days?
27:45 – What strategies were important on this stage?
29:25 – What were you spending your day on back then?
30:25 – What was the strategy to get on the media with your stories?
34:15 – What resources do you recommend for entrepreneurs to improve their game?
35:20 – Was did you do after 1-800-GOT-JUNK?
40:10 – What were the important things, specific to COOs, you talked about on these meetings?
44:00 – What advice you'd give to entrepreneurs that may need a COO or a CEO?
45:55 – What typical roles and responsibilities you see a CEO delegates to an executive assistant?
49:30 – How can someone join the COO alliance?
51:25 – How can someone work one on one with you?
53:30 – QUICK FIRE QUESTION ROUND

54:10 – Any unusual drinking or eating habits?
55:43 – How do you get into a state of flow?
58:38 – What habit or opinion you have that people tend to disagree with?
01:00:47 – What nontraditional lesson would you teach at school?
01:02:56 – What books had the biggest impact on your life?
01:04:05 – What do the first 30 minutes of your day look like and when does it start?
01:05:35 – Any advice for bosses in general?
01:06:33 – What do you do or where do you go to get inspired?
01:07:33 – How would you double USD 5K in 24h?
01:08:12 – What's the best advice ever given to you?
01:08:45 – What silly thing people should do more of?
01:09:46 – Would you rather fight one horse sized duck or one hundred duck sized horses?
01:10:52 – How would you convince someone to do something that is good for them, but don't want to do it?
01:11:45 – What makes you happiest?