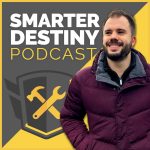 Chase Harmer is a successful entrepreneur, with over 20 years of experience building businesses, leading companies and creating amazing products. He's the CEO of PayCertify, a payments company processing billions of dollars in transactions annually, operating worldwide and working with business in the ecommerce, healthcare and travel verticals. Tune into this episode of Smarter Destiny Podcast to find out how he solved a major issue with online payments.
Bullet points
00:30 – Intro
02:20 – Background / The beginning
03:50 – Dropping out of college
05:40 – The jump to payment processing
09:10 – Solving retail problems
11:45 – Transitioning to ecommerce
12:20 – The problem with hotel reservations / The problem in the hospitality industry
13:50 – The solution / Solving the problem / Leveling the field: PMS
18:35 – Creating seamless transactions
21:02 – How it works
25:55 – Manufacture spending
27:40 – Benefits for businesses
35:35 – Handling transactions worldwide
38:00 – What would be a good fit
39:20 – Where to learn more about PayCertify? https://paycertify.com/ Virtual card USD 100 giveaway
40:20 – Rapid fire question round
40:57 – Any unusual drinking or eating habits?
42:40 – How do you get into a state of flow?
45:20 – What habit or opinion do you have that people tend to disagree with?
48:05 – What non-traditional lesson would you teach at school?
49:50 – What books had the biggest impact on your life?
55:15 – What does the first 30 minutes of your day look like and when does it start?
57:38 – Any advice for your previous boss or bosses?
59:38 – What do you do or where do you go to get inspired?
01:01:05 – How would you double USD 5K in 24h?
01:01:45 – What's the best advice ever given to you?
01:03:15 – What silly thing should people do more of?
01:05:05 – Would you rather fight one horse-sized duck or one hundred-duck sized horses?
01:06:07 – How would you convince someone to do something that is good for them, but that they don't want to do?
01:07:05 – What makes you happiest?