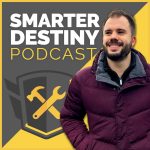 Oliver Kenyon is an UK fully qualified chef turned entrepreneur, who has managed to establish and scale several online companies. After selling his first business in a seven-figure deal, Oliver co-founded Landing Page Guy, a design and development company dedicated to maximizing their client's online return by supplying landing pages that bring proven results.
Bullet points
00:40 – Intro
02:50 – Getting started in the kitchen
05:35 – Creating the first forums
08:13 – The transition towards marketing
11:50 – The first pay
13:19 – Juggling two jobs
16:40 – Other ways of getting paid
18:12 – Selling the company
21:43 – Starting new projects
24:32 – The evolution of the new company
28:15 – The five elements of a highly-converting website
35:40 – Using emojis and testimonials
37:28 – Where to learn more about landing pages
38:39 – Proving results
40:55 – Some more tips on conversion
42:50 – The ideal client
44:00 – Rapid fire question round
44:34 – Any unusual drinking or eating habits?
46:22 – How do you get into a state of flow?
47:51 – What habit or opinion do you have that people tend to disagree with?
49:22 – What non-traditional lesson would you teach at school?
51:11 – What books had the biggest impact on your life?
52:35 – What does the first 30 minutes of your day look like and when does it start?
53:30 – Any advice for your previous boss or bosses?
54:54 – What do you do or where do you go to get inspired?
56:25 – How would you double USD 5K in 24h?
57:49 – What's the best advice ever given to you?
58:43 – What silly thing should people do more of?
59:50 – Would you rather fight one horse-sized duck or one hundred-duck sized horses?
01:00:19 – How would you convince someone to do something that is good for them, but that they don't want to do?
01:00:59 – What makes you happiest?