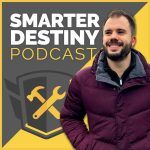 Ben Weir is a Canadian serial entrepreneur who has been selling and pitching for many years. Ben specializes in working with influencers and communities to create high-quality consumer goods and bring them to market. After co-founding BluMaan, now a 7-figure hairbrand, Ben is the Co-Owner of the newly launched FORTE Series, a fast-growing cosmetics company.
Bullet points
00:30 – Intro
02:35 – The start / The illogical starting point
06:37 – The transition
08:44 – Trying different things
11:05 – Installing a hard work ethic
12:20 – The first business: marketing for public companies
13:45 – The turning point / The signs to change path / The signs to move onto the next thing
14:37 – The next thing: the hair company BluMaan
17:28 – The tactic: creating a self-running community
23:55 – Getting traffic for the brand / Scaling the brand
23:30 – The arrangement with the partners
26:30 – The new business: FORTE series
28:35 – Building the brand
29:45 – Achieving a great launching
32:10 – Health issues and process automation
39:24 – Dealing with burnout and making a positive impact
43:24 – Connect with Ben Weir
45:07 – Rapid fire question round
45:29 – Any unusual drinking or eating habits?
47:22 – How do you get into a state of flow?
48:44 – What habit or opinion do you have that people tend to disagree with?
50:05 – What non-traditional lesson would you teach at school?
51:45 – What books had the biggest impact on your life?
52:53 – What does the first 30 minutes of your day look like and when does it start?
54:25 – Any advice for your previous boss or bosses?
56:00 – What do you do or where do you go to get inspired?
56:30 – How would you double USD 5K in 24h?
57:34 – What's the best advice ever given to you?
58:46 – What silly thing should people do more of?
01:01:06 – Would you rather fight one horse-sized duck or one hundred-duck sized horses?
01:03:10 – How would you convince someone to do something that is good for them, but that they don't want to do?
01:04:25 – What makes you happiest?