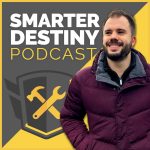 Joshua Chin is a speaker and Singapore-based entrepreneur who runs Chronos Agency, a data-driven email marketing agency specifically tailored towards scaling direct-to-consumer brands. Find out how to know your customers better and all the secrets to a successful email marketing campaign in today's episode of Smarter Destiny.
Bullet points
00:30 – Intro
02:38 – The starting point
04:00 – Dropshipping and other ventures
05:50 – Back to studying
09:23 – Fake it till you make it
13:20 – The first client
16:40 – What email marketing isn't
19:50 – What email marketing is
21:50 – Understanding how customers interact with your brand
24:50 – How Chronos works
26:20 – Speaking to different types of customers
30:46 – What kind of email works
36:11 – Getting clicks
41:44 – Connect Josh
43:00 – Rapid fire question round
43:35 – Any unusual drinking or eating habits?
44:03 – How do you get into a state of flow?
44:58 – What habit or opinion do you have that people tend to disagree with?
47:29 – What non-traditional lesson would you teach at school?
48:17 – What books had the biggest impact on your life?
52:38 – What does the first 30 minutes of your day look like and when does it start?
54:38 – Any advice for your previous boss or bosses?
56:41 – What do you do or where do you go to get inspired?
57:38 – How would you double USD 5K in 24h?
58:27 – What's the best advice ever given to you?
59:48 – What silly thing should people do more of?
01:00:34 – Would you rather fight one horse-sized duck or one hundred-duck sized horses?
01:01:24 – How would you convince someone to do something that is good for them, but that they don't want to do?
01:02:24 – What makes you happiest?