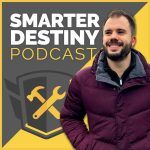 Ryan Daniel Moran is an entrepreneur, digital marketer, investor, speaker and best-selling author. He is the Founder and CEO of Capitalism.com and the host of The One Percent podcast, where he shares his thoughts on wealth, personal responsibility, and capitalism. Ryan is on a mission to empower others to release the power of capitalism so that they can build businesses and invest the profits, creating the change they want to see in the world.
00:30 – Intro
03:00 – Comparing yourself to others
05:00 – College and first jobs: being great with money / Being good at earning money, but not having a purpose
07:00 – Moving to Austin, Texas
08:30 – Applying the skills to 'real business' / Building sellable businesses
09:30 – Why Austin
10:50 – The meaning of money
11:10 – Amazon in 2013
14:30 – Influence, traffic and attention / There are plenty of opportunities
18:35 – The strategy behind everything
21:10 – How the first conference came around / Surrounding yourself with the right people / the strategy behind the first event
24:25 – Building the parachute as you fall
25:20 – Breaking even and the opportunity cost and thinking long term
27:30 – The power (and mistakes) of marketing
30:30 – Deciding to exit
32:50 – What happened next
34:00 – Making mistakes and needing a break / Giving yourself a break
36:35 – The importance of paying attention to what your body is saying / of listening to yourself
39:44 – Deciding what to do next
42:14 – The person who stops is the one who makes the most progress
44:37 – The two types of grind
47:33 – Dialing in with what you want
51:40 – 12 months to $1 million
54:43 – Rapid fire question round
55:22 – What superhero would you be and why?
56:49 – What is one thing that people incorrectly assume about you?
58:41 – What is the most pointless subject taught at schools and what would you replace it with?
01:01:03 – What is one amazing act of kindness you either witnessed or done yourself?
01:03:02 – What unusual or underrated food or drink should more people try out?
01:05:16 – What is one mistake in your life and what did you learn from it?
01:06:57 – What does the first 30 minutes of your day look like and when does it start?
01:07:50 – What do you do or where do you go to get inspired?
01:10:24 – Who do you idolize above everyone else and why?
01:12:26 – What book do you read or gift the most?
01:14:01 – What silly thing should people do more of?
01:15:01 – If you could change one world problem with one wish, what would it be?
01:17:12 – What makes you happiest?
01:19:22 – Any asks or requests for the audience?